Nitrates Nitrates Nitrates!
Awwwwwww yeeeeeeeahhhhhhhhh! <--- Can you tell I'm excited?!
Tested the tank again last night and I totally have between 5-10 ppm nitrates. Wahoo!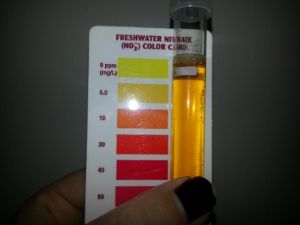 Please excuse the peeling/chipped nail polish. Normally I'm very anal about my nails... except for last night.
I am so happy about having some nitrates. That means I am sooooooo close
I added more ammonia and am currently at 1ppm+ ammonia, .25ppm nitrate, and 5-10ppm (closer to 5) nitrate.
I'm going to keep feeding the tank so I can beef everything up and better establish my good bacteria, but overall, I am super happy. I thought it would take a little longer before I even started showing nitrates, so I am very pleased at the moment.
Hooray progress!